Select the class/event type from the tabs on the top to see a complete table of upcoming classes/events in that category. From the list you can click view details/register link to see the complete details and register online.
All About Dogs has finally found a new home for all dog matters and all things that matter to dogs! We are dedicated to training and education, sports and recreation, health and fitness.
Welcome to All About Dogs
Toronto's very own full-service dog training and resource centre. Our 16,000 sq. ft. facility houses an extra large training hall, fully matted for cushion and traction to allow you and your dog to engage in fun activities, such as agility, rally obedience, show handling, tricks and dog sports all year round. These programs provide an opportunity for recreational and social activities that benefit both the dog and owner alike.
We have a fully-equipped dog grooming station and matted puppy playroom for puppy socialization classes and daycare. We are centrally located and easily accessed from the city's centre or from the Greater Toronto Area.
All About Dogs offers a wide variety of entertaining and educational programs designed to create fabulous canine companions that are welcome members of our community.
From puppy training to competition level obedience, agility, grooming and daycare, we are all about dogs, all the time!
We help you to build a strong relationship with your dog through informative and interactive training programs based on positive reinforcement and an understanding of canine behaviour. You can access ongoing training and education through workshops on Pet First Aid, clicker training, dog behaviour, health and diet. Group classes and private lessons are available weekdays, evenings and weekends. Daycare and training are provided as an additional resource.
All About Dogs' Mission
Our mission at All About Dogs is to provide the education and support dog owners need from the time they adopt a puppy or shelter dog to enable dog owners to deepen their understanding, respect and delight in their canine companions as well as create dogs who are welcome members of our community.
Let us help you bring out the best in your dog!
General Dog Training - 19 years
Certified Pet First Aid - 17 years
Agility Training - 14 years
Water Dog Retrieval Training - 10 years
Behaviour Modification Training - 19 years
Renée is a long standing member of:
The Canadian Association of Pet Dog Trainers
The Canadian Kennel Club
The Association of Pet Dog Trainers (USA)
The Agility Association of Canada
Association of Pet Dog Training
Canadian Association of Rally Obedience
Responsible Dog Owners of Canada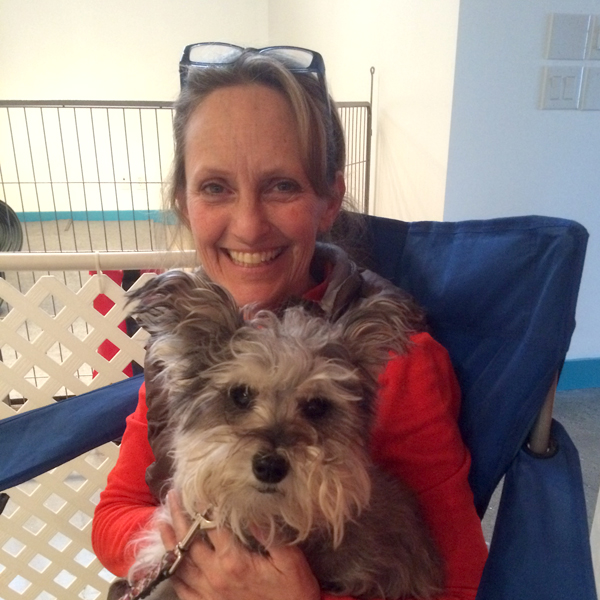 At All About Dogs, we believe positive reinforcement training is the best way to create a happy and confident dog who understands what is expected of him.
We teach owners how to establish boundaries at home and employ problem behaviour prevention strategies from early puppyhood onwards. Training and behaviour problems are resolved without the punishment-based techniques that commonly result in fear, aggression, or deterioration of the bond between dog and owner.
Instead we utilize positive methods based on well-established learning theories and behavioural science that are humane, practical and effective. We teach marker-based training, either with a clicker or word, combined with rewards of all kinds (e.g., food, toys, play, and praise).
All our training programs reflect a comprehensive understanding of the dog's natural behaviour, and take in respect learning abilities as well as the dog's mental and physical developmental stages. In our classes we strive to create a relaxed and enjoyable learning experience as we believe that the human part of the equation needs as much support and understanding as the canine component.
Most people learn more quickly when not subjected to criticisms and negative feedback, and therefore, a positive approach to the training of the people is an integral part of all our programs.
All About Dogs carries a wide variety of retail products for your dog. We have products from toys, handmade tugs, and squeaky stuffs to a wide array of healthy food and treat choices.
Visit our location and see what we have to offer. A complete retail outlet is located in the front area of our facility. And if you don't see something, and would like us to carry a product or treat or food, let us know.
See what our clients have to say about All About Dogs' services and facility.
Can't recommend the Show Handling class enough!! The content is fantastic. I've done drop-in classes, and full-day seminars and I got more out of one class than all the other's combined.
Jennifer Lennon
Tollden Farms
I have since gotten Paris' CGN and showed her at her first match and won Best in Match/Best Puppy in Match. 🙂 Handling classes = results.
Dianna & Paris
Rottweiller Enthusiast!
I can never say enough good things about All About Dogs, Renee and her gang are amazing with pets. My Monty went for puppy classes and loved it so much that we started agility and even were in the house league. Never was there a time he wasn't happy to see them or be there. They truly care not just about the pets but their owners too. Kind and effective pet training. I wouldn't recommend anyone else!